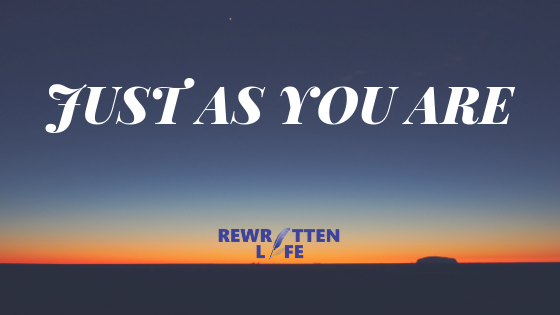 Just as you are…
Anyone feeling weighed down by the past? Your shortcomings, bad choices, stress, failures? Maybe you even have regret? I do.
Years ago, I started a company. It was a fine art company for children where we offered dance, art, music, and theatre classes to children. It was an amazing concept as arts were nilche in the schools at this time. It was a startup, so it was tough. I was manning EVERYTHING, with the exception of my husband's tech help. Teaching, lesson planning, marketing, accounting, outreaching, performing, supply buying, renovating, customer servicing, just trying to build a brand that I believed in. MY company grew from 75 students year 1 to 275 in year 2! We had to find a new space, 4 times as large! It was a dream come true! I hired on staff to help, maintained help with accounting, lesson planning, renovating and it became a good business!
Fast forward a year later…. We had an unwelcome knock on our door from DCFS. Let me preface this with I have been working with children since the age of 11, starting with my aunt's daycare center. I have an early childhood education degree. I have worked in 5 different schools and I have 3 children of my own. I LOVE kids- they are my passion. So, having DCFS come to my door was a complete shock.
Long story short, not to bore you, they claimed I was running a daycare center and needed to be licensed. This was for 2 reasons: 1- a neighboring company KNEW I was a bit more innovative and they were scared I was taking their clientele – jealousy. 2- I was running multiple classes during the day.
Now, I couldn't do anything about reason 1, that's a vindictive, fear-driven choice in life. REason 2? We all know that children get into classes that they LOVE for hours at a time! Art, dance, music, theatre. It was a great thing for these kids to be in their element and LEARN, feel accepted and GROW as people!
This took a blow to me as a business owner and creator of this dream. I felt like a failure. We had to rebrand the classes, payment process, the concept and eventually, DCFS backed off. In the midst of all this, my director ended up not panning out, so in Feb of that year, I had to let her go.
Here I am, at the age of 37, back to the drawing board, raising 3 kids, directing, teaching, lesson planning, marketing, etc…. It was one of the TOUGHEST years of my life.
After all that, despite the amazing children and their gifts being brought out and flourishing, I decided to pull the plug. It was too much. Hard to sustain a blow like that and come out on top.
Shortcomings? Yes, I had many of them. Inability to wear a hundred hats and do them all well.
Bad choices? Yes, I should have had all my ducks in a row before I started the business. I should have researched my staff and my programming more thoroughly.
Stress? Enough of it to put me in the surgical room for an endoscopy, in the doctor's office for numerous check-ups and pneumonia… Lack of sleep, late nights, .. Lots of stress.
Failures? Pretty much felt like a failure. Lost a bunch of money, didn't make a dime on the endeavor, lost special assets, lost all the time, lost the effort of renovating a special place like my Art company.
Regrets? I think so. I regret growing too fast, too soon. I regret trusting people in the community and within my company when I should have been more cautious. I regret starting a company by myself.
As you can see, I have a lot that has been weighing me down from the past… FEAR, LACK OF TRUST, FAILURE, STRESS…
However, Jesus says, the Past is the past… Leave it there… Don't waste time on bad choices, ask for forgiveness and move on! Remember the song, "Take the shackles off my feet so I can dance, I just wanna praise you, I just wanna praise you!!"
Take them off, dance, and be free!!! REJOICE!! God has forgiven you on your new path. It is done, move on. CHANGE!!! He's ready to change you from the inside out. Take all that hurt, fear, distrust and allow God to heal you from within. Change your patterns, change your life!
LEARN!! He'll help you LEARN from your mistakes… Wow, I learned a TON from my business owner experience. I've learned to: be cautious, be patient, be balanced, be money savvy, be brave, be determined, be strong, be myself. I truly found the REAL ME in all this experience.
GUIDE!! He will guide you! God is already guiding me on a new path with kids and their giftings by showing the world they are important, smart and can change it!!!!
This BLOG post was inspired by Jesus Always by Sarah Young.